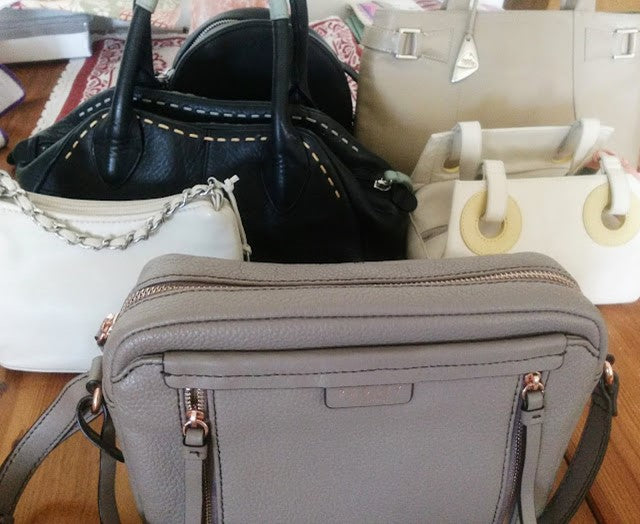 April 11, 2023
Jane Smith, Managing Director
The leather Repair Company - Not just for boys!
I love a good leather handbag don't you. Good quality leather last for years , doesn't it?
Well, yes it should do but how often do we push old favourites to the back of the cupboard because they are dirty, or are dry and unappealing or have ink marks on them - so easy to do!
And leather shoes! I have a favourite pair of cream shoes which I once wore with new jeans and the dye from the jeans rubbed of on them in the rain.
Another problem is that I have recently added to my collection a circular bag only to find that the colour rubs off on my cream coat .
It's enough to make you cry!
This is a small evening bag and I love it, but it is covered with splashes of food and drink, spoiling it's appearance. You can hardly see them in the photograph but believe me they are there - everywhere.
This bag has some sort of dirty marks on it, no idea what they are, but I can't get them off.
I have had this bag for years but it looks unloved and uncared for. The leather is extremely dry and the bag is marked in places. I'm quite sad about this one. it looks dull and unattractive.
This lovely little evening bag has very sadly got pen marks right on the front.
This is my newest bag and I absolutely love it. I have only used it once and annoyingly dye from the handle rubbed off onto my cream top. Nothing can solve that problem right?

This is fairly new and is my favourite, it is already feeling a little bit dry and grubby and so I need to sort it out before it gets any worse!
So, what on earth am I going to do to rescue my beloved handbags?
Luckily I have been sent this Leather care and repair kit from the Leather Repair Company and I am going to go through each item one by one and show you how wonderful these products are.
If you wish to purchase this kit - and it is not expensive - go straight to the product on this link  Aniline Care Kit
Inside the kit is an instruction leaflet, Leather Cleaner, Leather protection cream, a Terry face cloth and a sponge. I was also sent a Tampico Leather Cleaning Brush which cleans deep into the leather very gently pulling the stain out of the grain. It is very gentle and will not harm your leather.
This was the first bag I tried and wow! With one simple wipe with the Aniline Cleaner the marks instantly disappeared. I buffed it with the leather protection cream and the bag feels so soft and nourished, rather like your hands feel after using hand cream. Surely the others won't come up so well?.
Second bag; and one quick clean and a polish which takes just a couple of minutes bythe way,  and the bag is like new. I am impressed! A couple of  thin coats of the leather protection cream and it's as good as new if not better - because now it will stay that way.
This old favourite was perhaps in the worst condition. If you remember it was dry and brittle.
I cleansed it gently and then gave it three coats of Leather Protection Cream, allowing it to dry and buffing it between each application. I think that my face says it all. The leather is soft and supple again. How amazing is that!  Notice how shiny it looks compared to how dull it looked in the first photograph.
This may well become a favourite once again.
Remember this little evening purse with ink stains on it? I was surprised and delighted that the ink came off, but it did. For more permanent ink stains on leather there is a specialist remover available especially for handbags available onthis link
Handbag ink and stain remover which I would have tried had this not been successful.
It is absolutely no wonder that this bag was staining my clothes. The black marks on an old cloth I used for the first clean were just from the shoulder strap alone.  To help prevent this from happening again I applied two coats of the protection cream after giving it a thorough clean with the aniline cleaner.
The protection cream creates a barrier which protects the leather from the sun, water, spills heat and stains and is something everyone who likes a good handbag seriously needs.
By the way I always keep my bags in their dust covers and my shoes in their boxes.
I mentioned that the dye  from my jeans spoiled a pair of shoes. There is a product called Dye stopper which I could have  used on my shoes  to stop the staining from happening. I wish I had known about it before.
Have you ever been caught out in the rain wearing denim jeans and new light coloured shoes or trainers and you have ended up with blue stains from your jeans on your lovely footwear? I know I have. This would have protected the leather and meanwhile there is an Ink and Stain remover kit to get rid of the problem. And of course the Handbag ink and stain remover mentioned above.
This is one of my newer bags and the one I love best of all. I gave it a clean with the Aniline leather cleaner, leaving it to dry naturally and then used a soft cloth to remove the dirt being lifted out of the leather. I was surprised at this actually, I thought it was cleaner than that!
I used the leather protection cream next, the leather on my bags is absorbent and this protection cream helps to prolong the good looks and the life of leather by repelling stains.
It is very good practice to give your new leather product, be it a bag or car interior or furniture , two or three thin coatings of this as soon as you get it, this will form a barrier against staining and against abrasion from clothing. It is waterproof too!
I never expected to see such obvious results, but you can see for yourself how healthy and shiny the leather looks in every single one of these bags. It didn't take long to do either. Just look at how beautiful they all look now!
I honestly think that every piece of leather we own is absolutely worth the small amount of time and money to clean and protect them. It will make them last a lot longer and preserve their beauty for years to come..
Looking at my before and after photographs I know you will agree.
The Leather Repair Company even offer training courses to help care for your leather, I highly recommend you visit them and take up a course.
So, where do I purchase these incredible products - and more?
The home of all leather care and repair is The Leather Repair Company do look at the rest of the products and services on the web site. 
You are invited to Call them on  01482 274081 or to email them on the address at the top of the page Contact details
If you look at the rest of the information on this page you will find photographs and descriptions of all the products on sale..
I have a friend who also collects the same brand of leather handbags that I do - I know what I will be buying her for her next gift now!
Thank you to the Leather Repair Company for asking me to try these two products. I am totally impressed and delighted with how my precious handbag collection has been quickly and easily cleaned and protected.  I know that I need to get the rest of them out and clean and protect  them all. So, only another 20 or so to go......
Please visit the web site and view the remarkable products - I know that you will be impressed at finding products  you have always needed but never knew existed.
Thank you for reading this
Angela
(Sewangelicthreads)