Repair Your Leather Steering As Good As New From As Little £50 Unbeatable Prices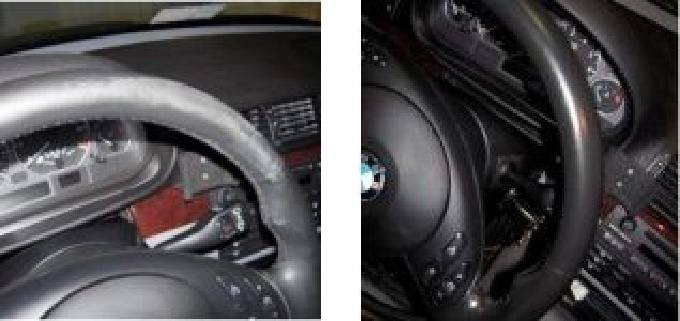 Telephone for help 01482 606864
• Unbeatable Prices
• Professional Services
• Fully Trained Technicians
• Over 30 Years Experience
• Scuffs Repaired
• Colour Restored
We are Leather Steering Wheel Repair and restoration experts. We carry out restoration on all types of leather steering wheels.
• Cleaning Steering Wheels from £25
• Scratch Repairs from £29
• Colour touch ups from £50
• Re Colours from £155
• Colour Changes from £195
• Stains Removed from £26
The steering wheel restoration service we offer is for modern, vintage, veteran and classic vehicles. This includes cars, vans, buses, boats and trucks in fact just about anything that has a steering wheel!
Our restoration process will bring your steering wheel back to life for many more years. Is your steering wheel feeling sticky, worn, scuffed or detracting from the look of your car's interior?
Let the Leather Repair Company steering wheel repair team bring it back to life carrying out a full leather steering wheel refurbishment. We can handle all types and sizes of steering wheels for restoration.
(Below) Damaged Steering Wheel. (Right) Repaired Leather Steering Wheel
Leather Steering Wheel Repair Process
Once It Arrives With US This is given to a technician, who will assess your wheel to work out the best forms of restoration for your steering wheel. No two wheels are the same and we believe in offering a bespoke service to each and every client.
After the first stage is done we then start a very in depth cleaning process and preparation process, to ensure your wheel is fully deep cleaned.
Then we start with the leather steering wheel repair, like cracks, scuffs, holes, roughness a d fading. We carefully repair these using special fillers to blend in all repairs.
Then we start with the primmer process of applying special sealers and primers to ensure your wheel is sealed ready for its colour applications.
Then we carry out the full re colouring restoration applying three to five coats of leather dye to your wheel making sure its back to its original colour and glory.
We use a special high grease resistance leather dye that we manufacture in house to ensure your Leather Steering Wheel Repair is as perfect as it can be.
Once this is done we carry out the clear coat sealing system to the leather steering wheel, applying several coats of clear coat sealer to lock in all the work, bringing your wheel back to its former glory. Then it's a matter of applying a special blend of conditioning creams and leather protectors to your wheel. We are able to carry out repairs to all types of steering wheels.
The Leather Steering Wheel repair service we offer covers. All makes of cars are repaired, BMW, Mercedes, Ford, Ferrari, Rolls Royce, Bentley, Jaguar, Fiat, Audi, Vauxhall, VW, Seat, Porsche and so many more If you fancy having a go at doing your steering wheel you can buy a DIY Kit to do this you can get almost any kit you require.
Restorers LRC © World Class Luxury Restoration Specialists.
BMW, Mercedes, Ford, Ferrari, Rolls Royce, Bentley, Jaguar, Fiat, Audi, Vauxhall, VW, Seat, Porsche
For a quote please send in pictures of the damage to Tel: 44 (0)1482 606864 Or e-mail contact us