007 reasons to keep your car leathers looking great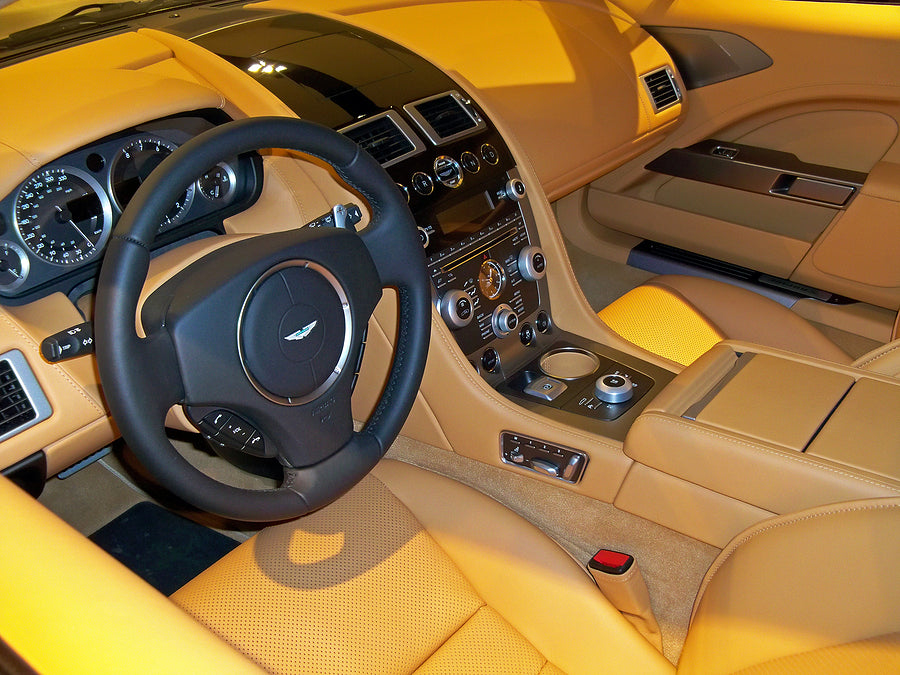 April 11, 2023
Jane Smith, Managing Director
There are some people who need no prompt to stir up an interest in classic cars, with vintage and not-so-vintage versions of various famous names getting everyone from history buffs to hardcore petrol heads drooling with excitement.
Others may have a more niche interest. For example, Aston Martin is not just a luxury carmaker in its own right; it has had a long association with James Bond. The latest film, No Time to Die, is no exception.
Without giving away any plot spoilers, it can be noted that the Aston Martin V8 will be making an appearance, having first appeared in The Living Daylights in 1987, the first of two films starring Timothy Dalton as 007.
The Aston Martin DBS also appears in the latest film, driven by another agent, while the Valhalla makes a cameo appearance.
Of course, no Aston Martin has a greater association with Bond than the DB5. It was the first Aston Martin to appear in a Bond film when it was driven by Sean Connery in Goldfinger, back in 1964. It has subsequently been in Thunderball, Goldeneye, Tomorrow Never Dies, Casino Royale, Skyfall and Spectre, with Pierece Brosnan and Daniel Craig behind the wheel.
All this means some fans will be very keen to get behind the wheel of an Aston Martin, even if it doesn't contain the various gadgets from machine guns to ejector seats that the Bond cars have.  
Of course, one issue that never gets discussed in Bond films is the matter of leather repair work. Perhaps it isn't exactly the most sexy or all-action subject to put in a spy film, but when one thinks about it, those Aston Martins with their fine upholstery are put through some pretty serious wear and tear.
It could be the long mileage; it's a fair old journey to Skyfall and even more if you keep insisting it's the A9 you're driving on, when anyone who knows the Highlands can tell that's the A82 as you pass Buachaille Etive Mor.
Alternatively, it may be the inevitable bumps and scrapes of being in high-speed chases, getting rammed by other cars and shot at. Either way, the Aston Martin and its interiors have a lot to endure.
Worse still, there were the bloodstains produced by the ending of On Her Majesty's Secret Service, when the new Mrs Bond was assassinated while in the front passenger seat of Bond's DBS, although in that instance, George Lazenby might have had 'all the time in the world' to get it seen to as he wouldn't be appearing as 007 again.
Whether you own an Aston Martin that Bond would happily drive (if you added a few lethal weapons, of course) or any other car with leather seats, you need not put up with them looking worn or damaged. Full restoration is possible, and that means they won't, unlike Daniel Craig, need replacing altogether.
They may not have seen the action that Bond's cars have, but your leather seats should always be kept looking good so that they make as much an impression on your friends as the car itself. After all, the aesthetic quality is not for your eyes only.